WHAT IS MANICURE?
Manicure is the process of giving relaxation and hydration to your hands and fingers by massaging them, it also includes shaping and (healing) polishing of nails. In the process, if your nails have taken an improper growth in shape and size it is cured by a different kind of manicure process which is done all over the globe in different preferable ways. Some popular process among them are Basic, Gel, Acrylic, French, Natural, and Luxury. A manicure also has major types of benefits such as increased blood flow, softening and glowing of skins, it helps you overcome stress, it also increases the longevity of your nails, and also helps in maintaining proper shape and size of nails.  
LETS HEAD UPTO WHAT HAPPENS IN THESE DIFFERENT TYPES OF MANICURE!
BASIC MANICURE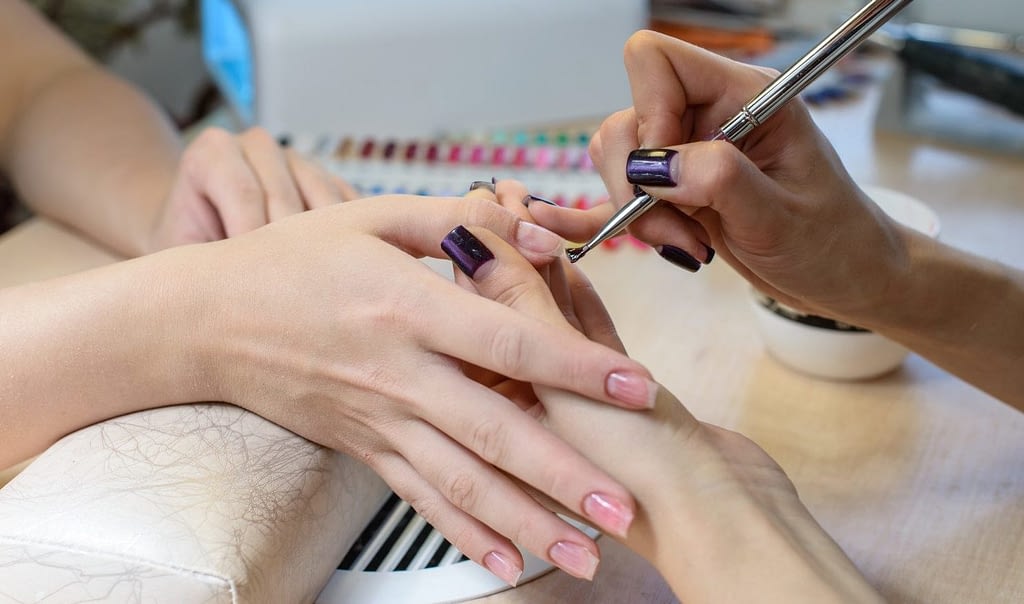 A basic manicure is the most common process of manicure across the world. This process of manicure is popular and preferable by most people as it is cheapest among all other process of manicure. In this process our manicure specialist first puts your hand into a bowl of warm water which is very pleasing and soothing to your hand, which makes you feel very comfortable and relaxing. When you put your hand into the bowl of warm water for 10-20 minutes all the dead skin cells present in your finger and hands are softened.
After your hands are taken out from the bowl then hands are dried up, after which nails are taken care of. In the process, your nails are stripped to the preferable size and proper shape. Your nails are also cleaned and polished along with. After this, your hands get a massage for better relaxation and then the nails are polished coloured and a special oil is applied by our manicure specialist.
Our Basic Manicure can last up-to 7-10 days depending upon the care you take of your hands and nails.
You want to remove the Manicure? You can come to us or use a nail polish available or any acetone which suits you to remove it.
And yes we use highly rated and recommended products keeping health of yours in our mind so that it causes no harm to you and your nails. So there are no chances of harming yourself in our manicure process, instead it refreshes your nails by hydrating them and keep them alive for a longer period.
LUXURY MANICURE
This is one of the kinds of manicure you must try at our salon. Try it because its worth it and according to the reviews one who had it are always coming back and having it again. This Manicure makes you and your hands feel very special once its done. In the process you're your hands are dipped into the bowl of warm water at a selected temperature suitable according your skin with a drop of liquid which removes the dead cells present in your skin. Your hands are then massaged with suitable and selected products which is health for your hands and skins. Your nails are polished with a special gel and reshaped with specialized oils and gels. This process soften your hands and gives you beautiful fingertips and nails
How long does it lasts? A Luxury Manicure can stay for 20-30 days on your hand depending on the care you take.
Is it Harmful?
We also recommend you not to remove this at home because it might damage your nails for the next manicure. So we suggest you to come to us for removing them.
NATURAL MANICURE
Are you allergic to all the chemicals that are present in oils and creams and still want a manicure? Don't worry we have a solution for you to prevent all chemical included creams and oils. It will all be done organically and in a natural and healthy way. This process isn't much different from normal manicure but you feel luxury and healthy in it. Your hands are dipped into warm water with rose water/petals with milk in it which softens it naturally removing dead skin cells. Then its massaged with natural oils which gives relaxation to your hands. Then trimming ,shaping ,rounding ,polishing and softening of nails are done by our experts. After this hands are massaged by oils which have Vitamin E present in it for your healthy hands.
How long does it lasts? It lasts for 7-10 days or even longer in some cases.
Is it harmful to your skin?
No way, since its done naturally by using all natural and organic products it causes no harm to your hands and skin so it is the safest among all kinds.
I want a manicure. How can I reach Smart Hairways?
It is very easy to reach us! We are available on Google Maps. Just search for barbershops near me in Dubai on Google and you will be redirected to the best luxury gent's salon in Dubai within no time!