Hi, welcome back to our new blog. If you read our last blog it was about manicure and in this blog we will be discussing about pedicure. Well pedicure isn't much a different thing than manicure but there are differences. Manicure happens to be for hands, palm and it fingers the similar way pedicure happens to be for legs, toes and feet. So let's get started about what pedicure is!
WHAT IS PEDICURE?
Pedicure is a method in which there is a treatment of care to your feet and toes. In the process, your legs get moisturized and are massaged to provide relaxation. Since it's likely to manicure it also includes shaping and polishing of nails. Like manicure, pedicures are also of different kinds.
The different kinds of pedicure are natural pedicure, regular pedicure, fish pedicure, French pedicure, margarita pedicure, wine pedicure, athletic pedicure, hot stone pedicure, chocolate pedicure, quick mini pedicure, floral pedicure, paraffin pedicure , gel pedicure , milk and honey pedicure.
WHAT HAPPENS IN THESE DIFFERENT TYPES OF PEDICURE?
REGULAR PEDICURE
This is the pedicure which is cheapest and easily available in all the salons out there. It is similar to the normal manicure. At first your feet is soaked in warm water and then rubbed with a scrubber or a pumice stone which removes all the dead skin cells present, and gives you a soft skin and nourishes your feet. Then the nails are trimmed sized and polished and cuticles are pushed back after which your legs are massaged by a cream. After the whole process you get a relaxing feel at the end of the process.
FRENCH PEDICURE
In our last blog, we described what French manicure is. There isn't much difference between French manicure and pedicure. In French pedicure the regular process is followed after which the nails are painted and highlighted with a single colour of your choice and tip is kept is white.
HOT STONE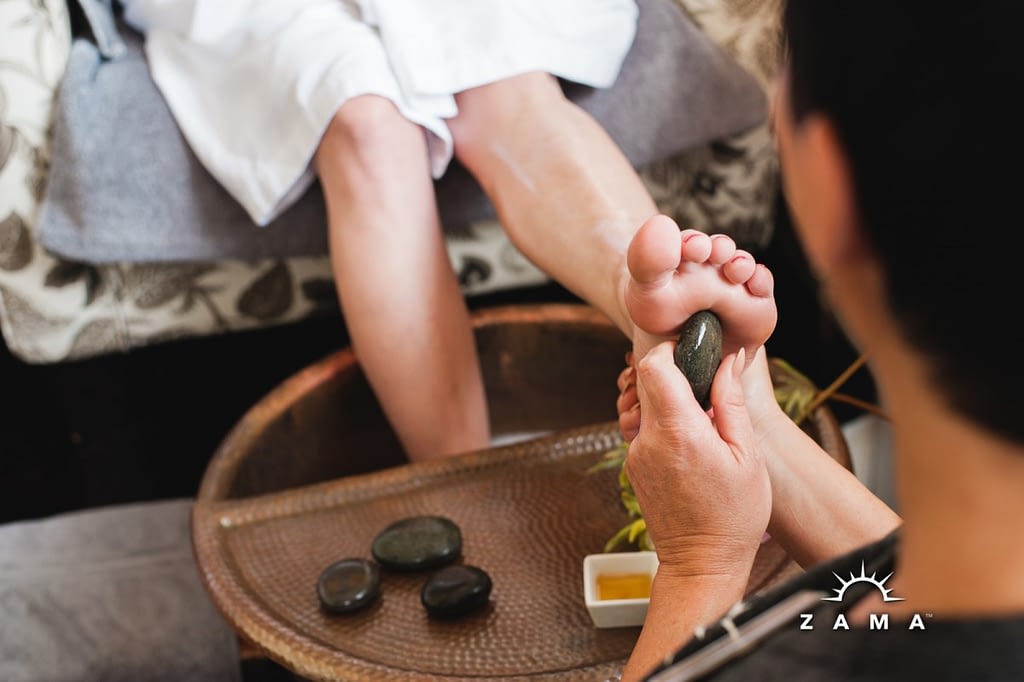 In hot stone pedicure the treatment to your legs are done by placing special kind of stones which are heated at a particular temperature and placed at pressure points of your legs. Nourishing and essential oils is used in the process meanwhile. And the massages and removal of dead skin cells are done after which nails are trimmed and painted. Hot stones helps in absorbing the oils and relaxing your feets from daily wear and tear.
Tired of chemical included process and want natural and organic process? Let's see what's there in the list!
MILK AND HONEY PEDICURE
In this pedicure, your feet are dipped into a warm bowl of warm milk which has a great aroma and is very beneficial for the skin as it makes them very smooth and soft. Then a sugar-coated or sugar scrub is used to scrub your legs to remove dead and dirty skin. Then massage is done with honey which enriches and provides nutrients to your skin. It is a natural and organic process which has almost zero side effects and you have happy feet for yourself.
FISH PEDICURE
It is one of the most unique and luxury kind of pedicure in the list and most organic way. This method has been adopted from ancient times when people used to dip their legs in ponds and used to sit by the side. Similarly, now a tub is filled with fishes and your legs are dipped into it where fishes consume all the dirt and dead skin cells present in your feet which makes it soft and smooth, it also acts as the food for fishes. So it's completely organic and hassle-free.  
WANT TO KNOW WHAT THE BENEFITS ARE?
It keeps yours legs healthy and after a tiring day or if you had a long walk and you go for a pedicure then it removes the pain in your feet and relaxes you. If will also make your feet soft and smooth by getting rid of dry and chapped feet. It keeps a good appearance of your feet by keeping nails and cuticles clean and perfectly trimmed. It also maintains a healthy feet by improving blood circulation and preventing ingrown nails and blood clotting.
After a long tiring day working and walking all your legs need is rest and relaxation. Want to try any of the above pedicures you can contact us for services!!!